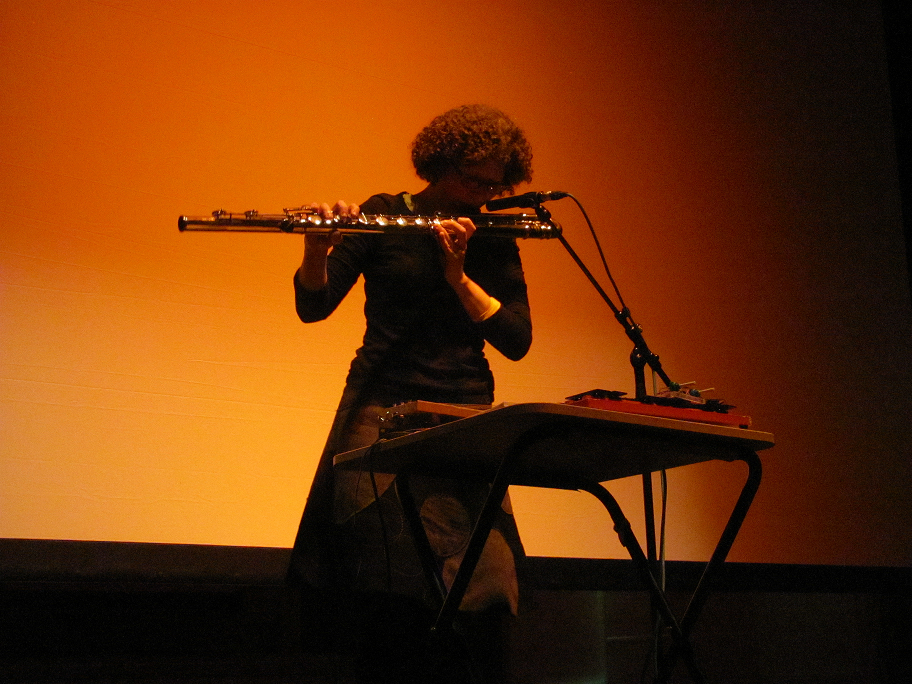 SHOP @ https://isnajdui.bandcamp.com/
In my solo guise I stand awkwardly between neo-impressionism and electronica, using concert and bass flutes, home-made dulcimers and electronics to create glitchy, experimental pieces.
As a classically trained flautist, I have also studied electroacoustic music, alternative tunings and Balinese gamelan. I have graced labels such as Home Normal, Rural Colours, Smallfish, Front & Follow and my own FBox imprint.
Having gained critical acclaim for releases such as 2007's Amacrine (Smallfish) and 2014's Dead Albatross Prize nominated Euplexia (Rural Colours), I have been cited as a distinct voice, taking the flute away from its pastoral image whilst maintaining its unique mellow sound. I have also composed several site-specific sound installations including UNThread as part of a series throughout unconventional spaces around Essex, and After the Flood as part of Hebden Bridge Arts Festival 2013. A prolific live performer, I have performed in numerous high profile venues and have received extensive attention in Wire Magazine and air play on Radio 3's Late Junction and BBC 6 Music.
REVIEWS
Textura, July 2014 'There's a maturity of conception and execution on display that identifies English as an artist and producer of considerable merit, someone hardly content to merely string myriad sounds together in the hope that they'll coalesce into something meaningful.'
Norman Records, April 2014 '…delicately attuned balance between almost spiritual stillness and constantly shifting textures and melodies with a sometimes confrontational playfulness about them… Quite remarkable, possibly the best of her many releases that I've heard.'
Boomkat (album of the week) 'Absolutely gorgeous music and a big recommendation for followers of [Home Normal] and good music everywhere.'
Smallfish (recommended) 'Truly a delight to listen to and something that is both familiar and strangely exotic sounding. You're unlikely to hear another album quite like this in the near future and for that we must be thankful that Isnaj Dui is out there doing her own thing.'
DISCOGRAPHY
Laapiu (Hard Return), Feb 2022
Bright Star (Textura), Jan 2021
Sight Seeing (FBox Records), Nov 2019
Poiesis (Rural Colours), Oct 2017
Sunspot Loops (Courier Sounds), July 2017
Answers at Dawn (WasIst Das), February 2016
Stone's Throw split EP with The Declining Winter (Rural Colours), September 2015
Dioptrics (FBox Records), August 2015
Euplexia (Rural Colours), April 2014
Secondary Projections (Hibernate), February 2014
85%, collaboration with Offthesky and Orla Wren (Hibernate) September 2013
After the Flood (Hibernate) June 2013
Duodecim (FBox Records) subscription series running September 2011-August 2012, CD released Feb 2013
Abstracts on Solitude (Hibernate) June 2012
Something More, collaboration with Hybernation (Rural Colours) June 2011
Circle of Sleep (FBox Records) February 2011
Protective Displacement (Rural Colours) December 2010
Unstable Equilibrium (Home Normal) August 2009
Patterns In Rocks (FBox Records) July 2007
Amacrine (Smallfish) June 2007
Sequence EP (FBox Records) May 2006
Isnaj Dui (FBox Records) March 2005